One platform to manage any project

From basic projects to complex portfolio management–teams deliver their best work with monday.com

Collaborate effectively
Bring teams together over one shared platform to break communication barriers, move projects forward, and align everyone involved.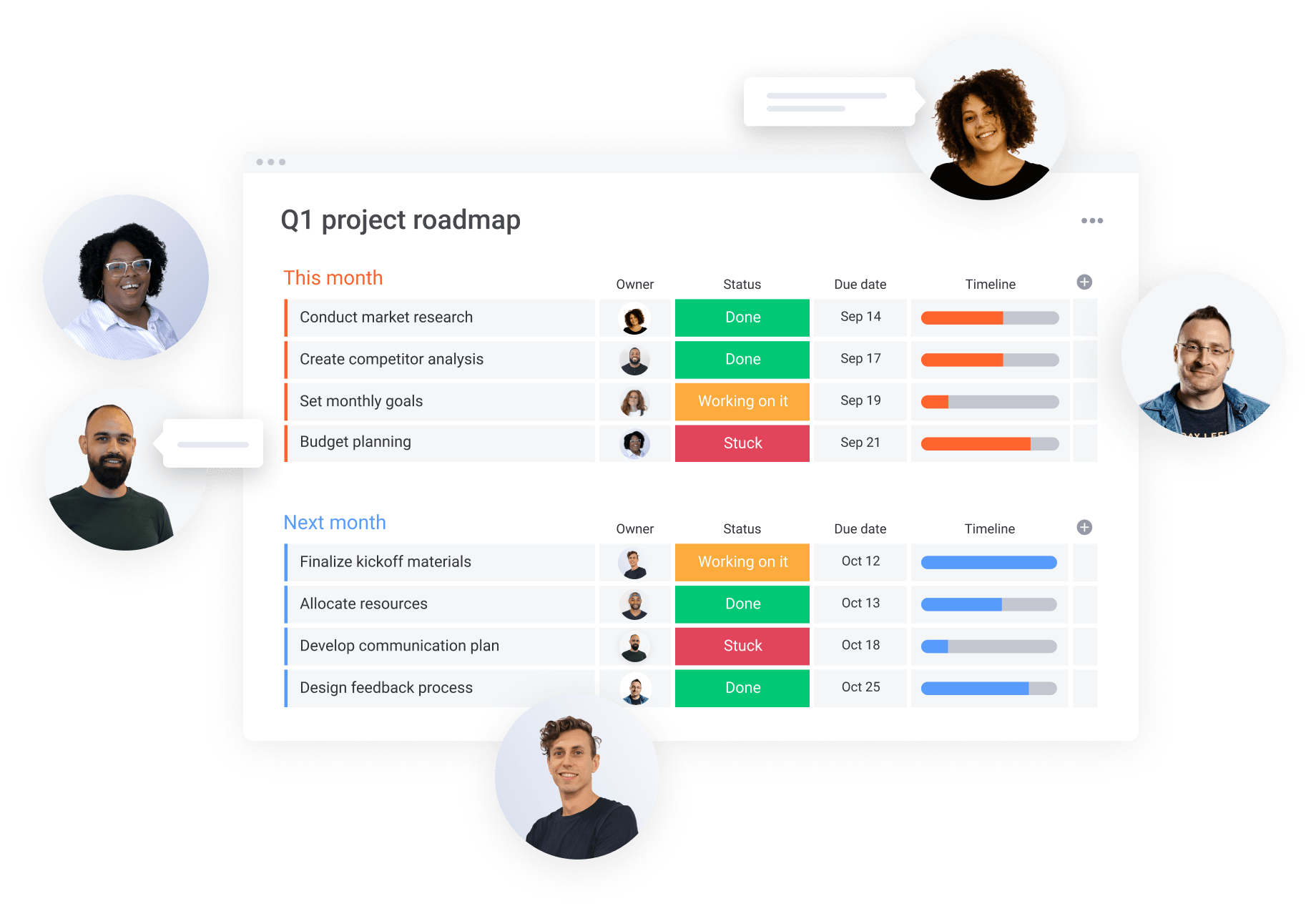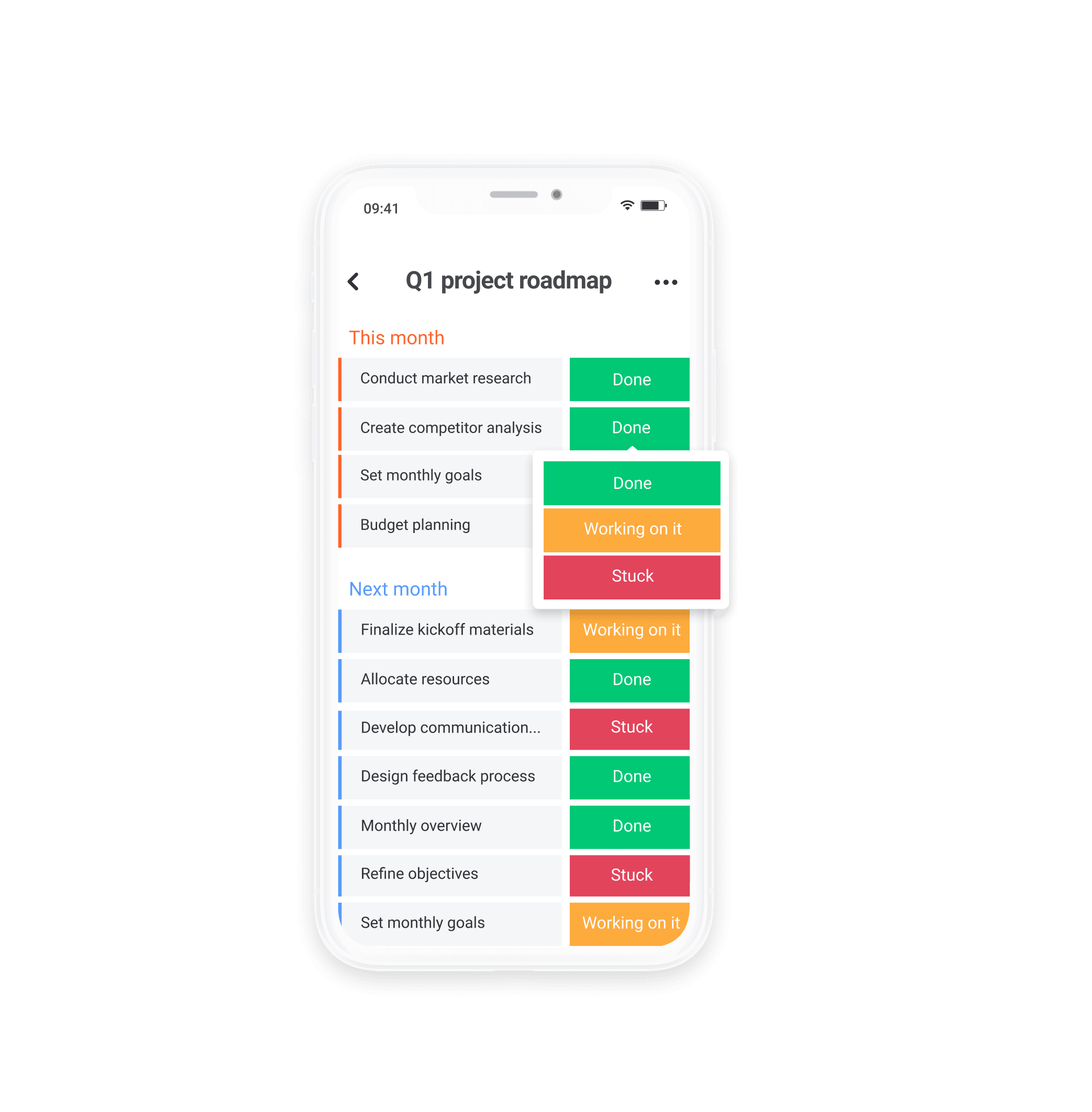 Keep track of all moving parts
Easily access all progress updates, budget approvals, and more on one platform and instantly know where all
your work stands.
Everything your team needs to execute their best work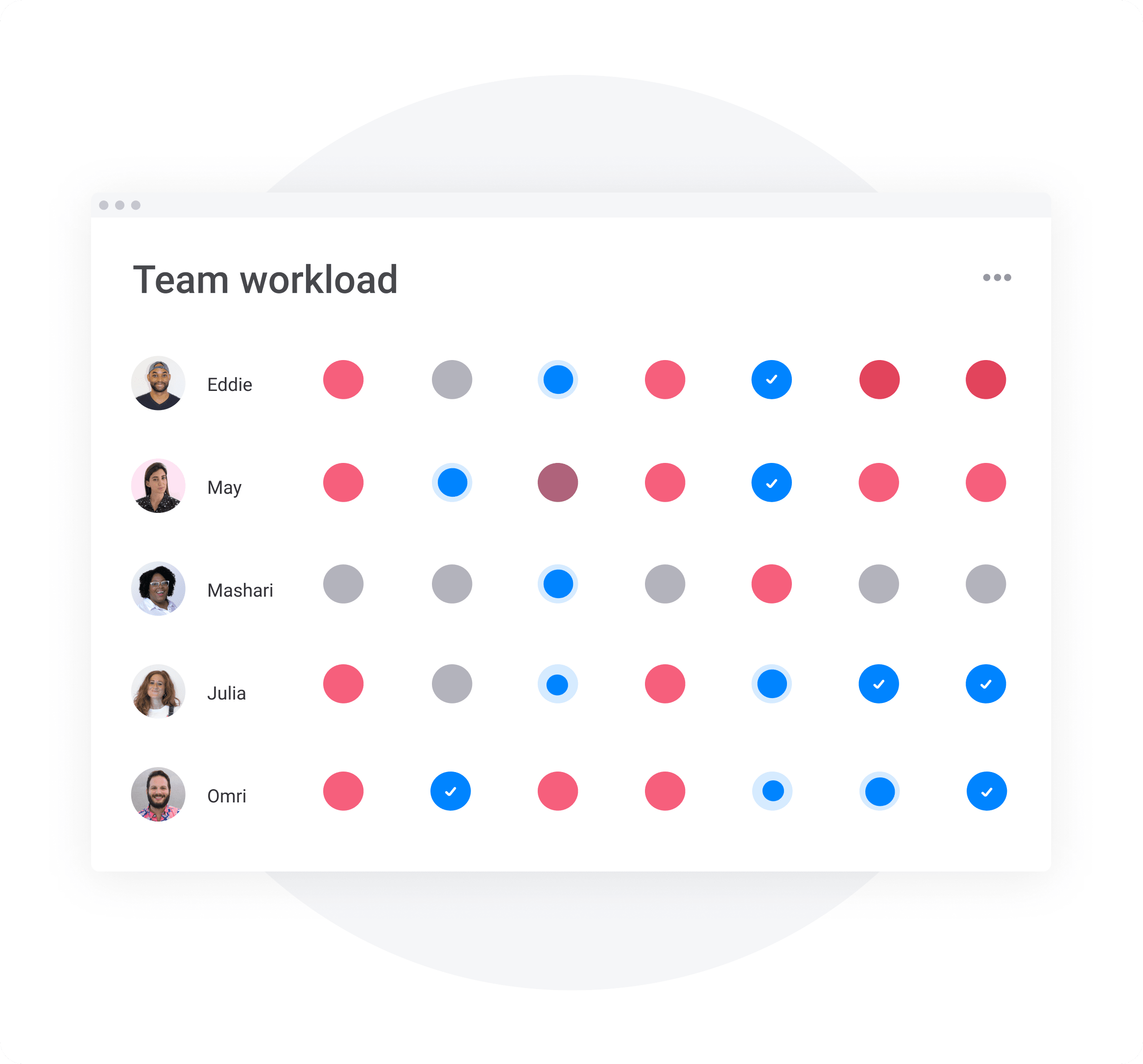 Stay informed
Manage all your resources efficiently to save time, avoid rework, and leave your team more time for creative work.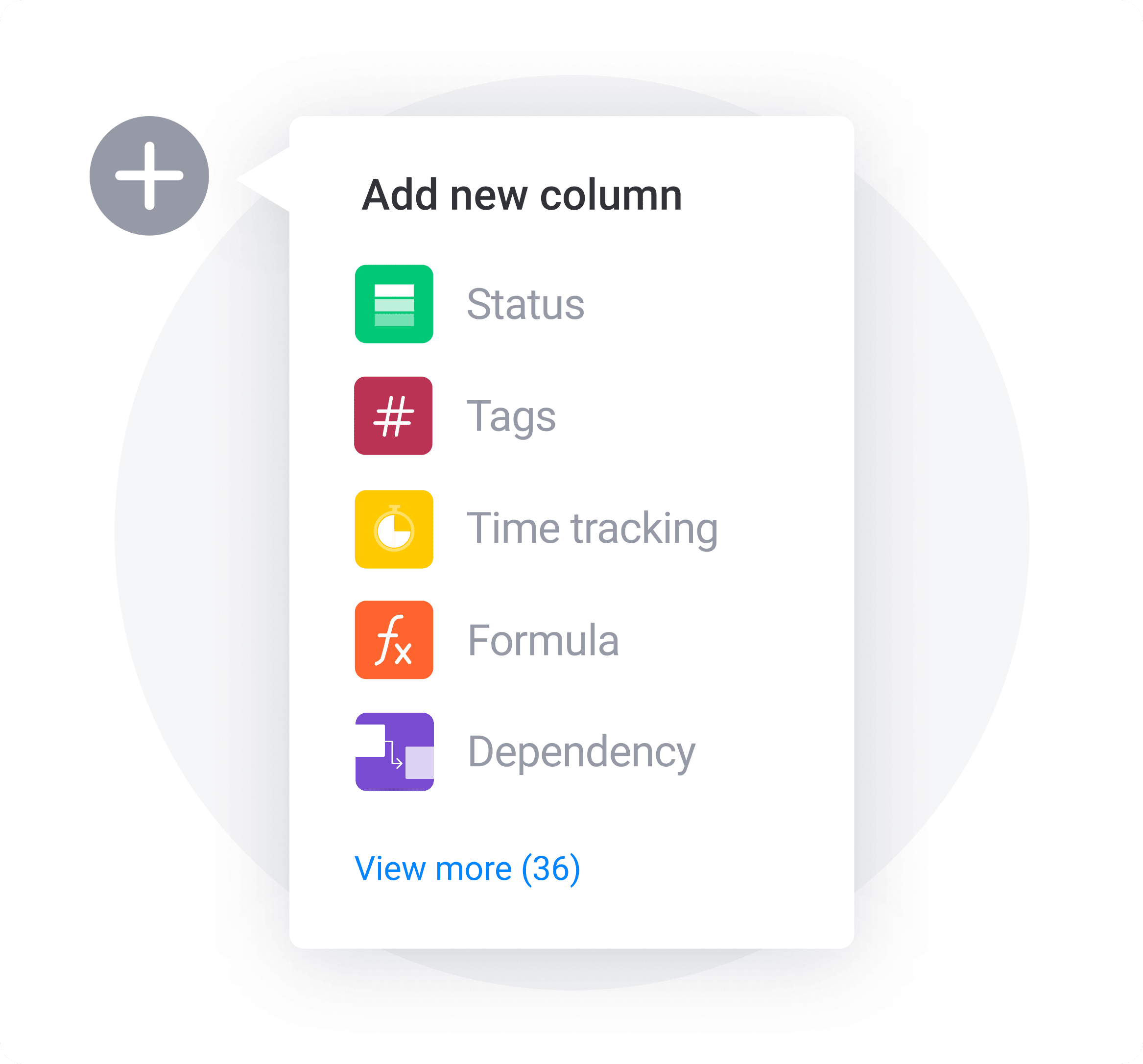 Customize workflows
Agile, waterfall, sprints, and more— monday.com allows you and your team to plan and track projects in seconds.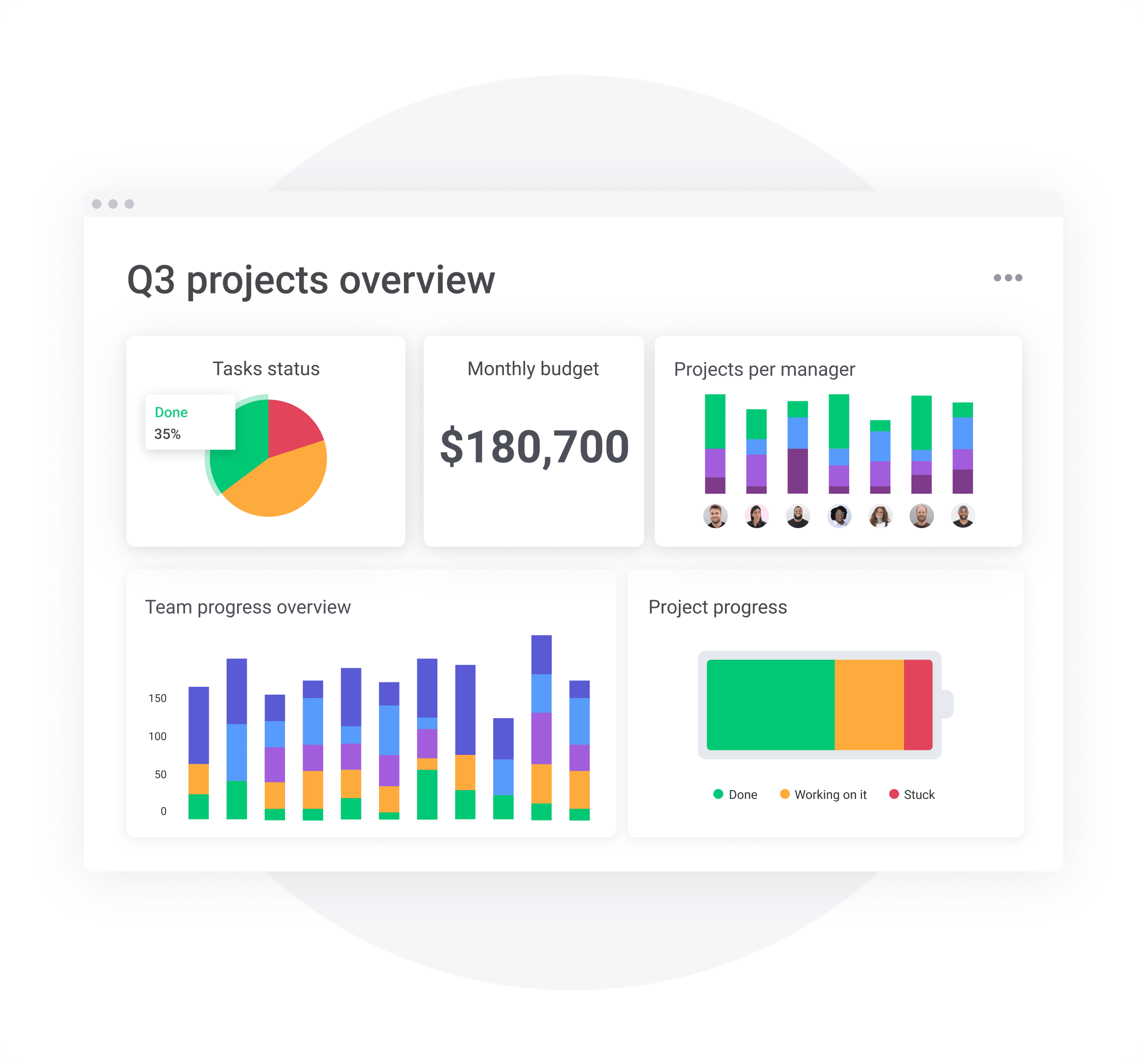 Analyze progress
See the status of all of your projects at a glance with clear, visual, and intuitive project dashboards.
Work OS: the visual platform that manages everything

Plan, organize, and track all of your team's work in one place.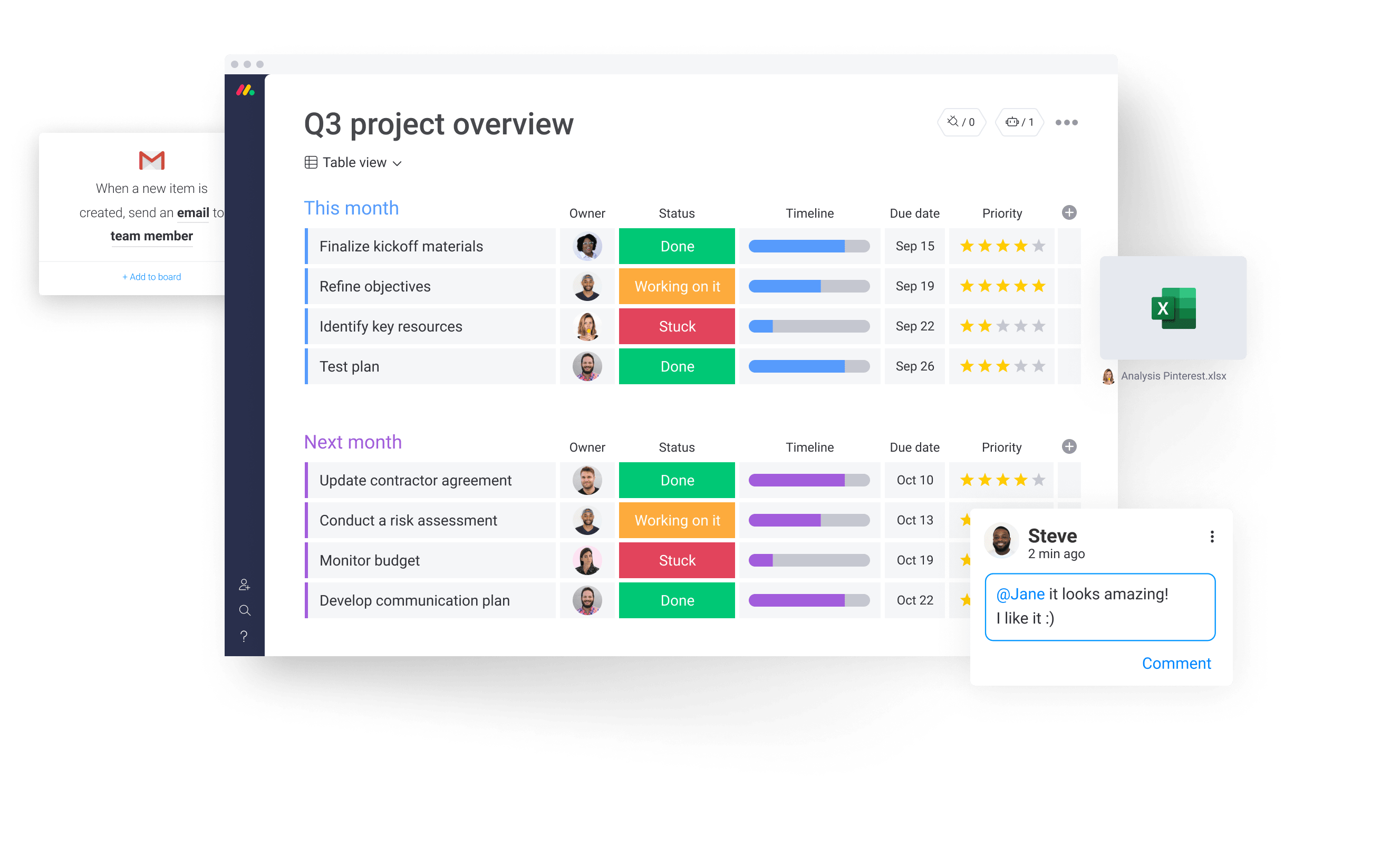 Visual super tables
Effective and productive organization starts here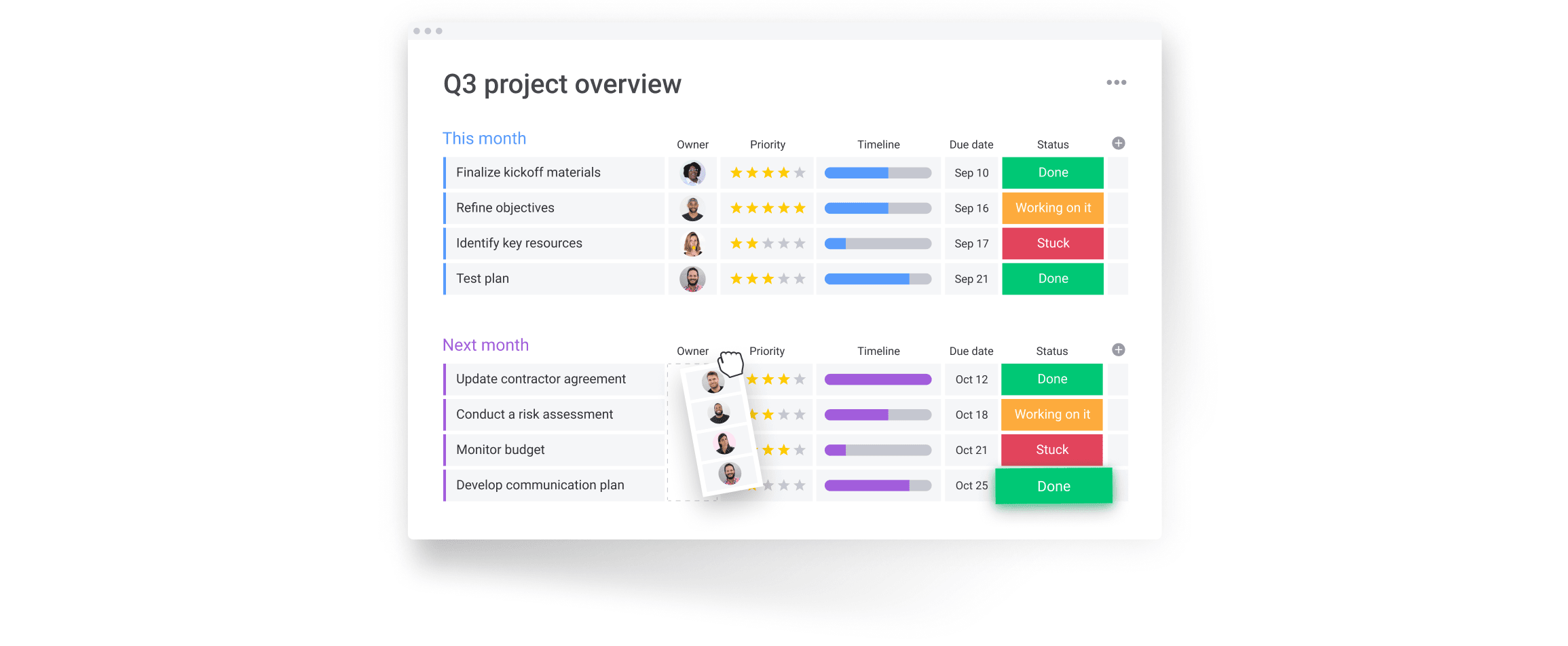 Everything starts with a board, or a visual super table. Start with one of 200+ templates or drag and drop 30+ column types to customize the workflow of your dreams. Groups, items, sub-items and updates are synced in real time to keep everything within the context of your actual project, workflow, process, or anything else. Status buttons reflect your team's actual work, so all your updates are in one place. Notify team members, add files, and link boards together so it's easy to keep track of what's going on.
Save time, streamline processes and projects, and keep track of all the moving pieces.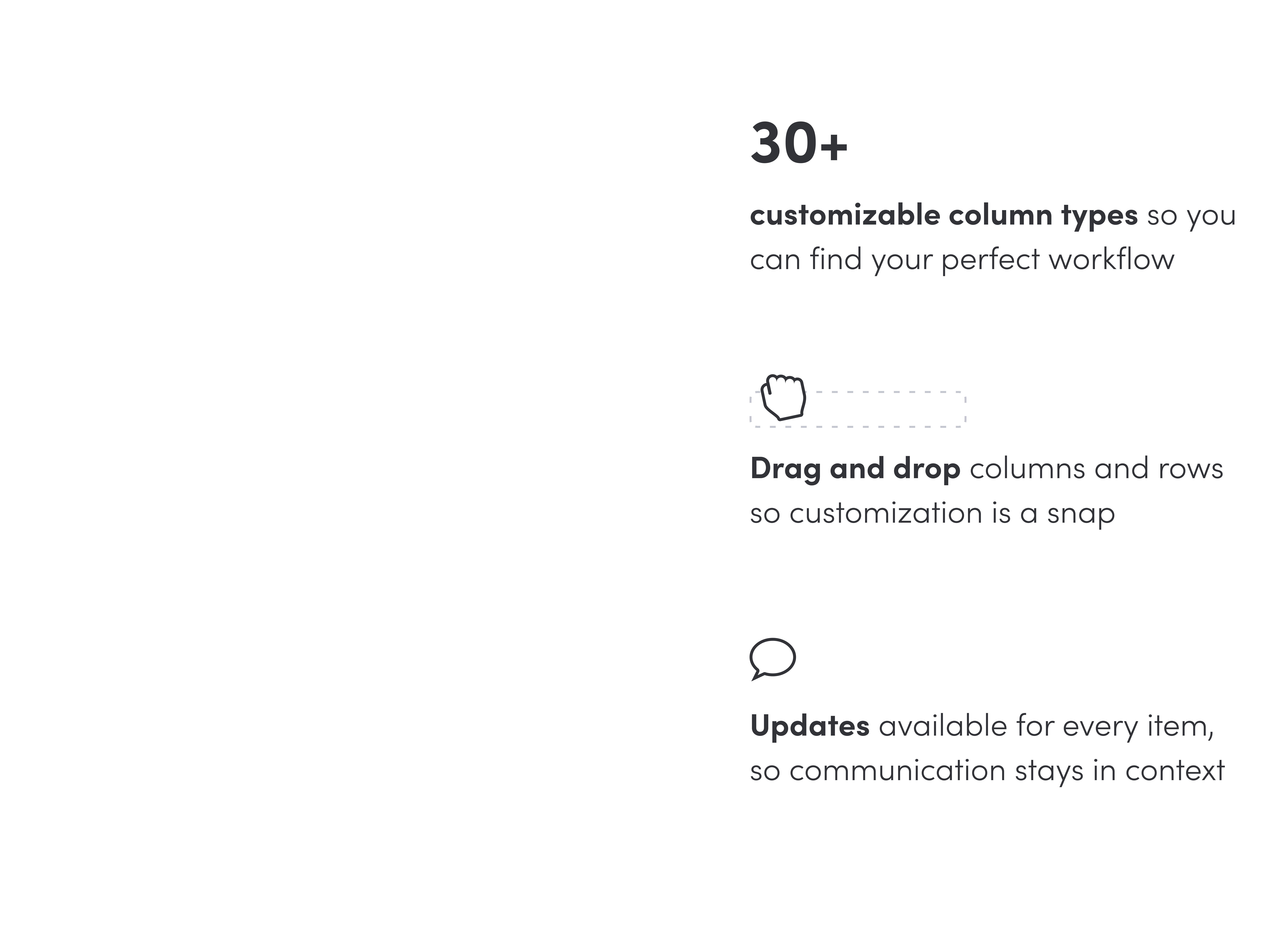 monday workdocs:where words ignite workflows
Connect, collaborate, and execute ideas and workflows—all in one place.
Collaborate
Harness the power of your team with live collaboration
Co-edit in real-time, instantly share comments, and drag and drop your text without disrupting your team members.
Connect
Bring your documents to life with real-time elements
Embed monday.com boards, dashboards, videos, and more directly into workdocs. Every component is automatically synced and updated as you work.
Execute
Turn your words into actionable items
Transform every part of your monday workdoc into live action items that seamlessly connect to all of your ongoing workflows.
More than just a doc

Board integrations
Embed any of your monday boards straight into your workdoc.

Real-time engine
Enable hundreds of people to work together seamlessly in one workdoc.

Tagging
Tag team members so ownership is clear and leaving edits is seamless.

Multiple editors
Edit any doc together with team members simultaneously.

Live updates
Receive comments and assign tasks to anyone in real-time.

Checklist
Create a visual task list to keep your big ideas organized.

Easy-to-use editor
Edit your workdocs with an intuitive drag and drop interface.

Embeded elements
Embed monday.com dashboards, images, videos, and more.

Autosave
All your work is saved automatically, as your work.
Seamlessly integrate all of your favorite tools
Connect monday.com with the tools you already use to have all your team's work in one place.
Explore even more automations that monday.com has to offer
Stay up-to-date
Instantly send emails when due dates arrive, and receive real-time updates when tasks are completed — so your team is always aligned.
Save time with automations
Leave repetitive work behind. Avoid unnecessary meetings, lengthy email chains, and more by setting up customizable automations within minutes.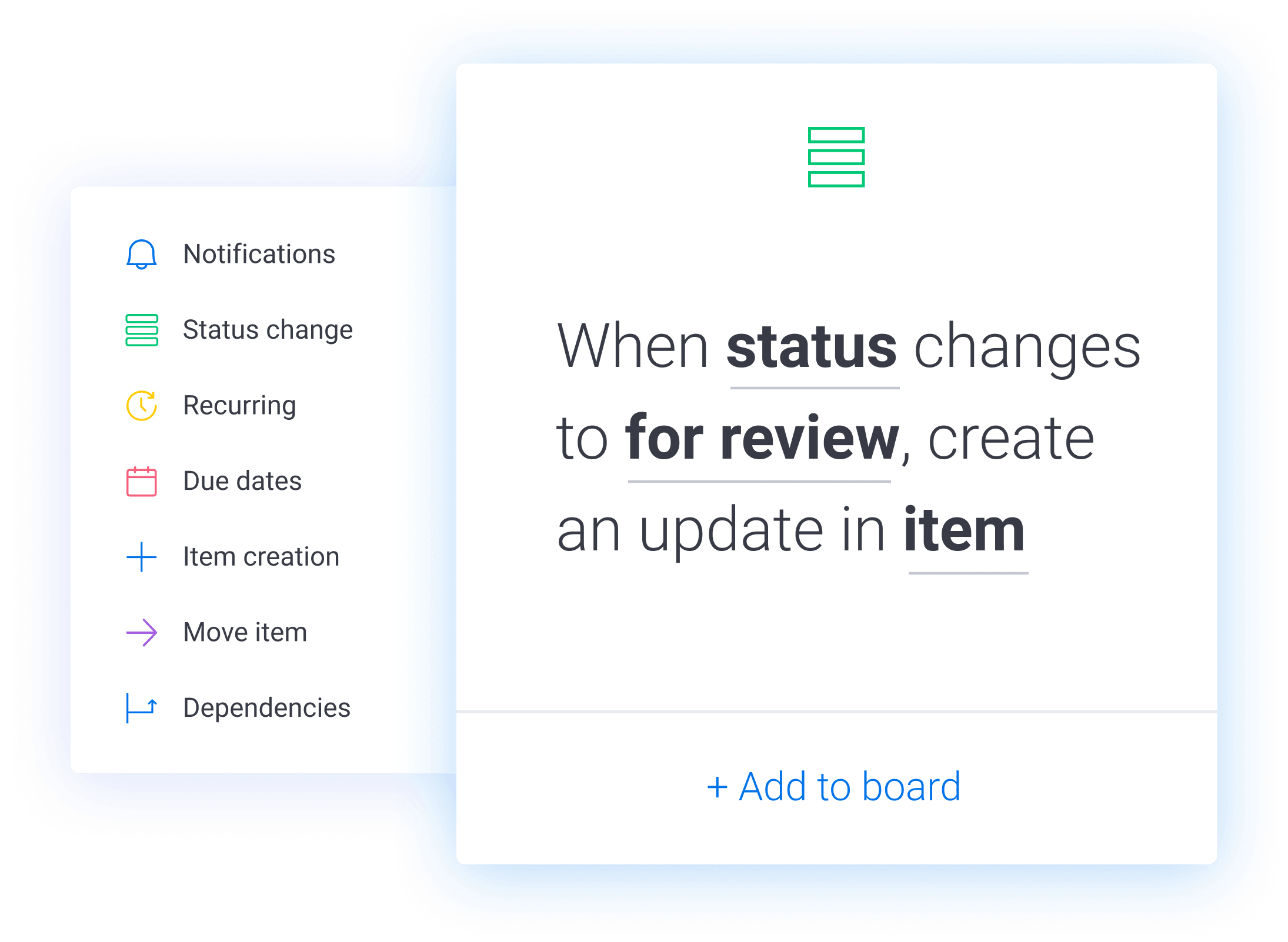 Try monday.com for your team
14-day free trial | no credit card needed
Customize it your own way
Easily set up code-free automations to create the perfect workflow for every team.
Seamlessly integrate all of your favorite tools
Continue working with your existing tools inside monday.com. Sync due dates
with your Google Calendar, instantly share your Dropbox files with your entire team, and more.

Make business decisions
with confidence
monday.com is a collaborative management software that gives a visual overview of where things stand at a glance.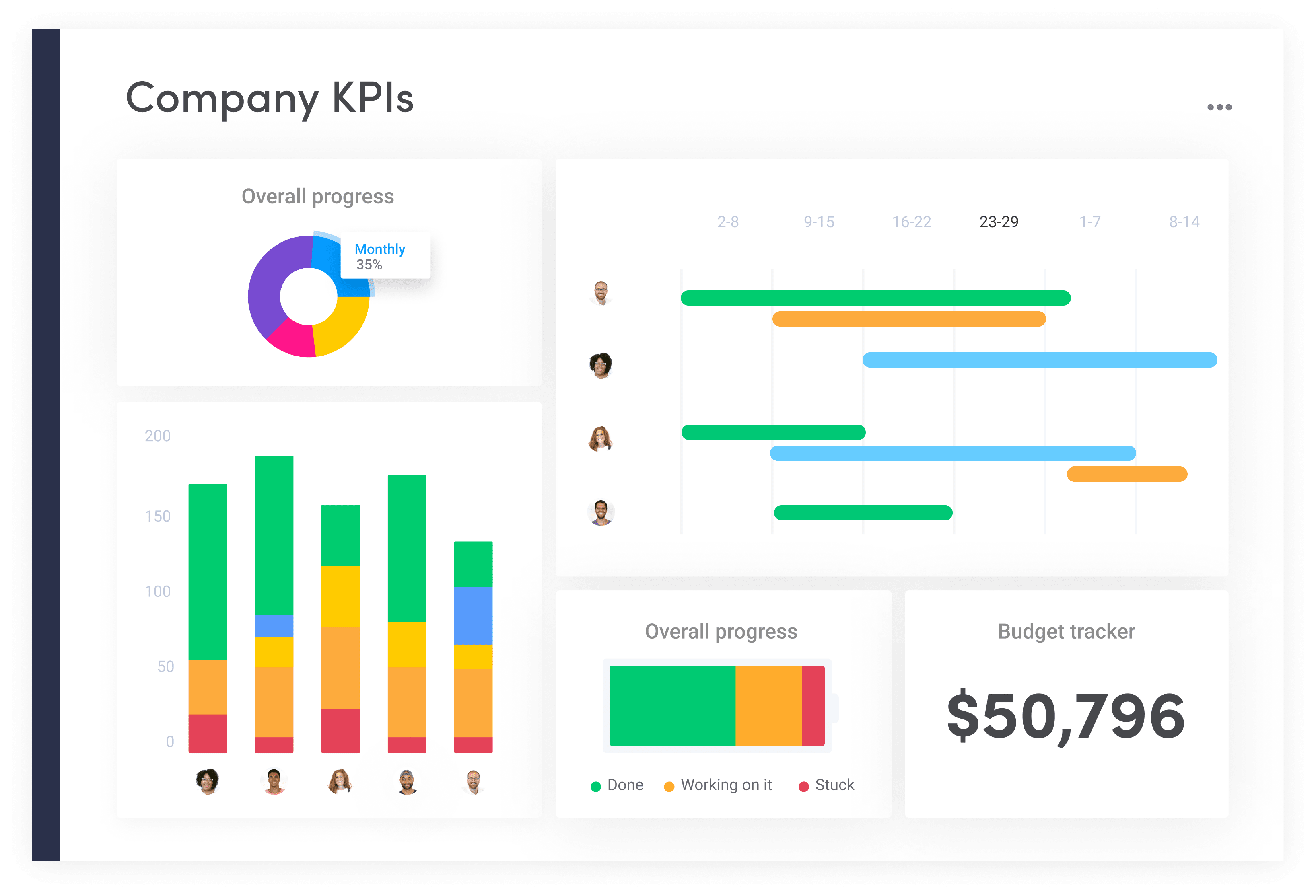 Get a bird's eye view in a snap
Emonday.com equips you with the tools to create custom dashboards and track progress, timelines and budgets at a glance. Easily run reports from a high-level overview down to very last detail.
Collaborate smartly
across teams
Use data tools to smartly assign and prioritize tasks, share files, and see who is doing what anytime. Our customizable boards keep everyone synced and working towards the same goal.