When your org changes, we change with it.
Medallia seamlessly adapts your experience program to match your organizational structure continuously and automatically. What does this mean? Right data. Right person. Right away
Complex hierarchy modeling
Model any complex organizational hierarchy and route the right insight to the right employee at the right time so they can take the right action.
---
Flexible data permissions
Respect fine grain data permissions and access controls at any level in the hierarchy to ensure only appropriate and permissible information is shared with every user based on roles and responsibilities.
---
Real-time synchronization
Integrate with multiple systems of record (CRM, ERP, HCM) to dynamically synchronize any changes in organizational hierarchies and relationships in real-time.
---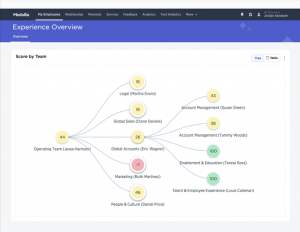 Learn More