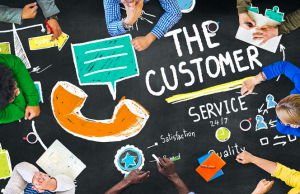 Omnichannel Communication
Support Ticket Management
Self-Service Solutions
More Conversions And Higher Sales
HEY, THERE! WE'RE CUSTOMER SUPPORT EXPERTS.
WHICH BEST DESCRIBES YOUR ROLE?

Better Solutions For Even Better Support
We have every feature you'll need to make your agents' jobs easier and to ensure your customers never have to wait again.
Customers can communicate through any channel (SMS, email, live chat, or Facebook), while agents manage all messages in one seamless, lightning-fast interface.
Level-up your agents with chat sneak peek, language translation, secure file/data sharing, AI-driven suggestions, video chat, automations, and supervisor "whisper."
Reports and Dashboards provide unprecedented visibility into agent performance and insights into customer behavior including contact history, web pages visited, and more!
The work day may end, but opportunities never stop. Our chatbot will greet website visitors, provide pertinent product details, and gather lead information 24/7/365.
All of our solutions are thoughtfully designed so you can get the most out of your existing tools. Integrate with your CRM, CMS, knowledge base, social media channels and more!
Your team will love having an organized workspace to streamline your inbox, keep related conversations threaded, and convert all requests into assignable support tickets.
Whether communications occur via live chat, text message, social media, or email, conversion tracking will allow you to see exactly which interactions resulted in sales.
Securely share and receive PCI, PHI, and HIPAA sensitive information via live chat, text, and email – loan applications, credit card information, medical records, and more.
Free Training and Support
Free training to quickly get your team up-to-speed on best practices, so they're ready to impress your customers with outstanding service from day 1 of implementation.
The live chat platform that will change your support for the better.
It's an omnichannel messaging powerhouse. Your agents have a streamlined view of every customer conversation and be able to manage multiple requests with ease, while your customers can reach out to you via live chat, SMS/text message, email, or social media. The only channel we don't cover is skywriting (yet).


Your customers live on their phones. Slide into their notifications.
Your customers take their phones to work, school, dinner, and church. Heck, they even take their phones to bed with them. They send and receive zillions of text messages a day. So, why not make yourself available via their most loved form of communication? We'll set it all up using your existing business line. No fuss. No muss. Just texting bliss.
Transforming busy, overflowing agent inboxes into a clean, unified workspace.
Give your team the power to resolve support requests faster and more accurately than ever before. Automatically route and assign every ticket to the right person in the right department. Manage requests from any communication channel all in one place while maintaining a detailed contact history throughout the entire resolution process.


Superior Customer Support On Autopilot
Are your agents drowning in a sea of customer requests? Is there no one to man the ship after hours? No problem. Our chatbot will help with initial contact, provide your customers with 24/7 support, capture lead information, schedule appointments, and more. Pretty much the only thing it can't do is bring you a coffee and the morning newspaper. But, we're working on it.
Provide your customers with 24x7x365 live support for less than the cost of a nice dinner for two.
You manage your business, we'll handle customer support. Hire HelpSquad personalized chat agents trained to understand your business, provide customer support, and generate leads.