Gitlab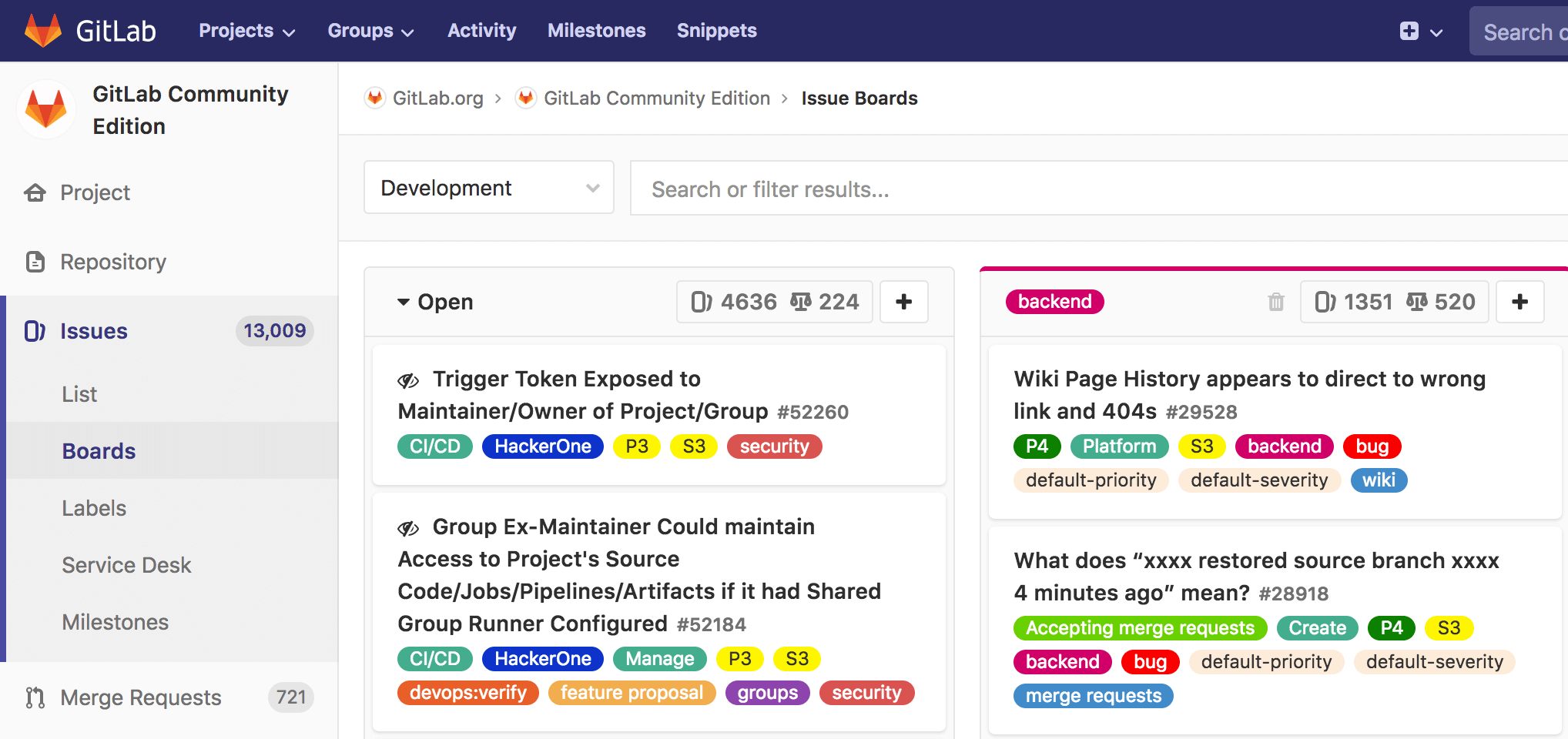 Gitlab software | DevOps software
The One DevOps Platform
Deliver software faster
Accelerate your digital transformation
Ensure compliance
Build in security
Improve collaboration and visibility
From planning to production, bring teams together in one application. Ship secure code faster, deploy to any cloud, and drive business results.
For every stage of the DevOps Lifecycle
Eliminate point solution tool sprawl with our comprehensive platform.
Automatically verify your code with powerful continuous integration (CI) capabilities.
GitLab helps you automate the builds, integration, and verification of your code. With SAST, DAST, code quality analysis, plus pipelines that enable concurrent testing and parallel execution, your teams get quick insights about every commit so they can deliver higher quality code faster.
Accelerate your digital transformation
Reach your digital transformation objectives faster with a DevOps platform for your entire organization.
Automate your software delivery process so you can deliver value faster and quality code more often.
Simplify continuous software compliance by defining, enforcing and reporting on compliance in one platform.
Adopt DevSecOps practices with continuous software security assurance across every stage.
Improve collaboration and visibility
Give everyone one platform to collaborate and see everything from planning to production.
Fundamentally changing the way Development, Security, and Ops teams collaborate and build software – GitLab provides all of the essential DevOps tools in one DevOps platform. From idea to production, GitLab helps teams improve cycle time from weeks to minutes, reduce development costs, speed time to market, and deliver more secure and compliant applications.
Regardless of your process, GitLab provides powerful planning tools to keep everyone synchronized.
GitLab enables portfolio planning and management through epics, groups (programs) and milestones to organize and track progress. Regardless of your methodology from Waterfall to DevOps, GitLab's simple and flexible approach to planning meets the needs of small teams to large enterprises. GitLab helps teams organize, plan, align and track project work to ensure teams are working on the right things at the right time and maintain end to end visibility and traceability of issues throughout the delivery lifecycle from idea to production.
Quickly set the status, assignee or milestone for multiple issues at the same time or easily filter them on any properties. See milestones and issues across projects.
By adding a description template to your issues or merge requests, users who create a new issue or merge request can select a template to help them to communicate effectively.
Use task lists in issues, merge requests, and epics to manage tasks and track their completion using checkboxes
Upload file attachments (including images) to issues, merge requests, and epics, to communicate ideas beyond text.
Award emoji in issues, merge requests, and epics, for more expressive communications, and to indicate upvotes and downvotes.
GitLab uses 'GitLab Flavored Markdown' (GFM). It extends the standard Markdown in a few significant ways to add some useful functionality.
Collaborate with threaded discussions in issues, merge requests, and epics.
Filterable System Activity
View system activity to see a history of changes to issues, merge requests, and epics. Filter by comments only or history only.
Track title changes in the system activity of issues, merge requests, and epics.
Labels provide an easy way to categorize issues, merge requests, or epics based on descriptive titles as 'bug', or 'documentation'.
Assign prioritized labels with issues and merge requests to display them in priority order.
Assign scoped labels mutually exclusively when they have the same scope.
GitLab lets you manage issues using Agile practices by setting the weight of an issue.
Create and manage milestones at both the project and group levels, viewing all the issues for the milestone you're currently working on, representing an Agile program increment or a release.
Create and manage iterations at the group level, view all the issues for the iteration you're currently working on within your group or project, and enable all subgroups and projects to stay in sync on the same cadence.
In GitLab, you can set a due date for individual issues. This is very convenient if you have small tasks with a specific deadline.
Assign a user to an issue or a merge request, indicating responsibility for it.
Assign more than one person to an issue at a time.
In GitLab, you can set a due date for individual issues. This is very convenient if you have small tasks with a specific deadline.
Keep your information secure with Confidential Issues. With GitLab, you can create confidential issues visible only for project members with Reporter access level or above.
Explicitly mark issues as blocked and blocking and track their status. Blocked issues are visible in the issue card view for easy identification.