MARKETING AUTOMATION PRODUCT FEATURES
Drive awareness, convert great leads, and deliver exceptional customer experiences to grow your business with Act-On's marketing automation product features.
Understand Your Audience. Optimize Your Strategy.
Ask ten consumers how they want to interact with a brand, and you'll get ten different answers. Our marketing automation product features can help you enhance customer experiences, increase engagement, collect in-depth information to analyze target audience behaviors, and deliver truly exceptional buyer journeys that nurture long-lasting customer relationships.
EMAIL MARKETING AUTOMATION
Combine Act-On email automation with proven email marketing best practices to achieve more engagement, better sales, and unlimited marketing ROI potential.
Automated Journey Builder
The new and improved Automated Journey Builder is an engaging and intuitive email automation ecosystem that makes it simpler than ever to plan, process, deliver, track, analyze, and personalize all your communications workflows. This fully reimagined email feature allows you to execute complicated outbound campaigns that nurture prospects into sales-ready leads and engage your existing customers like never before.
Transactional Event-Triggered Email
Our enhanced transactional event-triggered email solution allows marketers to send personal and urgent messages based on individual customer actions in real time. With transactional event-triggered emailing, marketers can consolidate and manage all of their email automation needs in one location. This reduces management costs and communications gaps while ensuring brand consistency and providing better engagement tracking.
Email Design and Templates
Our email automation design features make it easy for marketers of all skillsets and experience levels to build and send engaging messages. Using a simple, sophisticated drag-and-drop interface, there is no HTML required (although that option is available) to create responsive emails that render and resonate on any device. Or, if you're looking for email design inspiration, you can download one of our email automation templates from our ever-expanding catalog for quick and easy campaign creation.
Adaptive Sending
Not sure when to send your marketing emails? Remove the guesswork with Adaptive Sending. This innovative feature tracks and analyzes each contact's behavior on when they open, click, and convert by the time of day and day of the week. Using this behavioral data, Adaptive Sending will automatically update your email send times based on your recipients' individual preferences, increasing engagement and bolstering email deliverability.
Email Deliverability & Reputation
Make sure your emails arrive in the inbox and your sender reputation remains pristine with Act-On's expert email deliverability services. Our deliverability experts will proactively monitor your business practices and email processes, spot potential issues, and solve any problems that arise. From a one-time consultation to ongoing management, we can provide the education and support you need to drive consistent, reliable email reputation metrics and email deliverability rates.
Adopt Email Marketing Best Practices
Using Act-On's email marketing automation solution and working with our email deliverability team will give you the tools and knowledge you need to orchestrate engaging, efficient, and effective outbound marketing campaigns that follow proven email marketing best practices. And by combining your creative spirit with our email automation technology, you will improve your email deliverability and generate more email marketing ROI.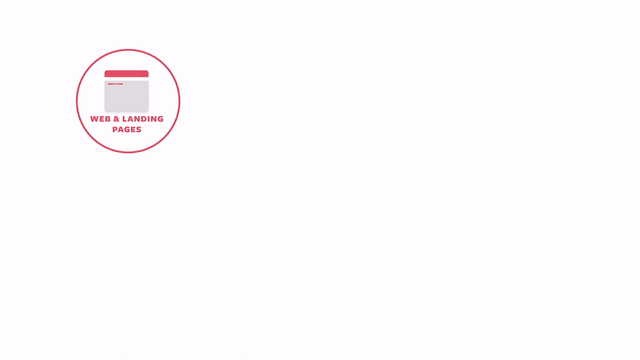 Go Beyond the LeadWatch this 2-minute video to see
Act-On in action
Learn how our growth marketing platform can transform your marketing.
WEBSITE AND LANDING PAGE OPTIMIZATION
Use Act-On to audit your website, improve landing page optimization, reduce bounce rates, and implement website visitor tracking.
Landing Page Optimization
Improve your landing page optimization processes to generate interest in your products and services, drive more high-intent conversions, and kickstart segmented lead nurturing programs. With our landing page designer, you can easily build your own landing pages with drag-and-drop features or HTML. Or, you can access a wide variety of landing page templates from our growing library.
Website Visitor Tracking
By placing the Act-On web beacon on your digital properties, you can implement website visitor tracking to gather comprehensive user behavior data, helping you create engaging customized experiences in real-time. You can even look-up specific contacts to understand who's researching your products and solutions and then deliver segmented nurturing campaigns.
A/B Testing Tools
Regardless of how well you've structured your landing pages, you can always do better. With Act-On's A/B testing tools, landing page optimization is an ongoing series of improvements. Our A/B testing tools allow you to assess design elements, copy, CTAs, and more! And once you've determined the winner, you can continue to test new variables to reduce bounce rates and ensure optimal campaign performance.